Biography of P. P. Tai Maharaj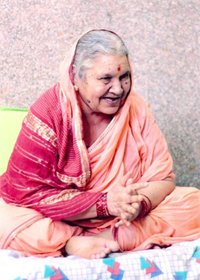 P. P. Tai Maharaj was born on the auspicious day of Shri Ram Navami, which is also the day Lord Ram was born. Her father P. P. Shri Kajalkar Maharaj, fondly and respectfully called "Anna" used to call her "Shashabai", a fond abbreviation for Shashikala, her first name. Within a few days after her birth, Anna took little Shashabai to the neighboring village of Deulgaoraja. He placed her on the lap of P. P. Shri Dhundiraj Maharaj and pleaded, "She is your daughter. Please take care of her." Since that day, Shri Dhundiraj Maharaj and his wife Aai Saheb accepted her responsibility. In the first few years that little Shashabai spent in the care of Shri Dhundiraj Maharaj itself, the seeds of self-realization and worship were sown. Later, Shashabai stayed with her maternal uncle in Jalna. The childhood of this saint in the making was truly extraordinary. Little Shashabai never played in her childhood with her friends. She had no time to mix with them. After finishing daily household chores, she used to meticulously prepare for the Pooja rituals. She continuously used to learn and recite prayers, poems praising God. She never asked or insisted on anything. Simplicity in her dresses, neatness and great regard for cleanliness were trademark characteristics; that can be observed in P. P. Tai Maharaj's demeanor even presently.
P. P. Tai Maharaj received her Guru Mantra from P. P. Dhundiraj Maharaj in 1958 at Deulgaonraja, thereby getting initiated into the discipline of spirituality. The Mantra Japa started then, has continued incessantly over the years. P. P. Dhundiraj Maharaj used to visit P. P. Tai Maharaj's residence whenever he happened to come to Jalna. After the demise of P. P. Shri Dhundiraj Maharaj in 1978, P. P. Tai Maharaj came in contact with his son and disciple P. P. Shri Datta Maharaj. Whenever P. P. Shri Datta Maharaj used to visit nearby villages like Hingoli or Deulgaonraja, he used to visit P. P. Tai Maharaj's residence. P. P.Tai Maharaj reminisces thus:
"P. P. Shri Dhundiraj Maharaj had promised to visit me. I thought everything was over after his demise. But I worried unnecessarily; saints are true to their words. Their existence is immortal, as are their teachings. P. P. Shri Dhundiraj Maharaj continued and will indeed continue to visit me in the form of P. P. Shri Datta Maharaj. I have no doubts that he and P. P. Shri Datta Maharaj are one and the same."
Over a period of time, P. P. Tai Maharaj built a small temple in Jalna to enshrine the photos of her beloved Guru, P. P. Shri Dhundiraj Maharaj and indeed her father, P. P. Shri Kajalkar Maharaj. The shrine, together with the presence of P. P. Tai Maharaj herself, started attracting a steady stream of visitors.
After the demise of P. P. Shri Dhundiraj Maharaj, P. P. Tai Maharaj was already looking to P. P. Shri Datta Maharaj for guiding her in her spiritual journey. P. P. Shri Datta Maharaj too was aware of the divine powers that P. P. Tai Maharaj beheld. When P. P. Shri Datta Maharaj would visit the small ashram that P. P. Tai Maharaj had built, the entire ashram would come alive. The festivities and the divine presence of these two saints would literally light up the ashram. Even as P. P. Tai Maharaj would bow in P. P. Shri Datta Maharaj's presence accepting his position as her Guru, he too would felicitate her by addressing her as "Bhagawati", the holy Mother. P. P. Shri Maharaj also gave Guru mantra to many a devotee at Jalna. Under the very able guidance of P. P. Tai Maharaj, the new premises started taking shape. What began as a small temple on a small road has become today a wonderful center to lovingly and respectfully commemorate Shri Datta Maharaj Kavishwar and all of his spiritual guidelines.
Without any publicity or effort, Shri Dattashram has grown in its spiritual appeal, attracting many devotees, professionals from all walks of life, students and spiritual masters to visit it. P. P. Godavarimata from Sakori near Shirdi, Shri Vidyashankar Bharati of Karveer peeth, Shri Kishorji Vyas, Shri Shri Ravishankar, Hon. Shrividyanibhav Shrikrishnanand Teerth of Badri Peeth and Panditratna Shri Rajeshwar Shastri from Dharwad have been some of the visitors to Dattashram.
Only saints can understand saints. Words would not have the capacity or the power or even the expression to describe all the facets of P. P. Tai Maharaj's personality. All the same, followers of P. P. Tai Maharaj and visitors to Dattashram are always keen to learn more about her. There has been an attempt to document various incidents written by P. P. Tai Maharaj's followers themselves in which devotees received spiritual guidance from her. This book titled "Alhaadini" is available in the Ashram.
P. P. Shri Dhundiraj Maharaj Kavishwar
P. P. Shri Dhundiraj Maharaj was born in the religious Dikshit family, renowned for its brilliance and command on ancient Vedic Sanskrit literature and the science of Vedic hymns. While the original family name was Dikshit, there is an interesting tale as to how the family title became "Kavishwar" i.e. Master of Poetry. It so happened that P. P. Dhundiraj Maharaj's grandfather had a daily routine of writing five shlokas to praise the Lord. These lyrics were his "offerings" to Shri Datta Guru. On his visit to Narsoba Wadi, where Shri Narsimha Saraswati, one of the avatars of Lord Datta stayed for many years, he would dedicate these shlokas to the Lord. For the poetic beauty and brilliance of the verses he composed, he came to be called "Kavishwar". All future generations of the family bear this name granted to P. P. Shri Dhundiraj Maharaj's grandfather.
P. P. Shri Dhundiraj Maharaj's wife Sau. Saraswatibai too was a very religious lady and used to perform religious rites as a daily routine. She was totally involved in various achievements of Shri Maharaj. Following her demise, a Samadhi in her loving memory has been constructed at Sultanpur.
Spiritual Journey
Shri Dhundiraj Maharaj had his primary education from his father in Narsoba Vadi and did his higher studies under the guidance of Shrikrishna Shastri Vasht in Narsoba Vadi. He stayed in Indore for further education. He studied and taught a system of Hindu philosophy, Hindu scriptures and the complex Dharmashastra i.e. the Law of the Religion. Following the family traditions, he worshiped Lord Ganesh, Lord Datta and Goddess Renuka. He had blessings of his father and also of the great saint P. P. Shri Vasudevanand Saraswati Swami Maharaj.
After finishing his education, Shri Maharaj went to Deulgaonraja in Vidarbha. Deulgaonraja is known for the temple of Lord Balaji, the deity whom Shri Maharaj worshipped throughout his life. There, he used to teach sacred literature. Because of his simple nature and divine characteristics, people were attracted to him. He had many disciples in Vidarbha and Marathwada. He had enormous love and affection for his devotees. Many unhappy, grieving people from various levels from society came to him for solutions and he had got rid of their problems with simple means. He was never disturbed or angry while helping and favored his devotees with blessings. Also, he helped people in their worldly problems. He was instrumental in inducing many into worship of the Lord. By teaching and giving able guidance, Shri Maharaj favored many people. He lived a long life and left for heavenly abode in 1978 at the age of 92 at Deulgaonraja. However, even today, people experience his divine grace in their lives.
Shri Maharaj's "Samadhi mandir" is situated at Deulgaonraja and all his devotees celebrate his birth and death anniversary. After his demise, his son Shri Datta Maharaj continued the divine work of his father and became the mentor not only for us immediate family but for the larger family of Shri Maharaj's devotees.
Real Samadhan i.e. stable pure happiness was always observed on Shri Maharaj's countenance.
P.P. Shri Dnyandev Dattatrey Kajalkar Maharaj 
P. P. Shri Kajalkar Maharaj was born as Dattatrey Ravji Kulkarni. Since he stayed in the Kajal village for quite a long time, he came to be known as Kajalkar Maharaj . Kajal village is about 12 KM from Jalna. There is a beautiful lake at Kajal called the "Shravan Lake". Here itself, King Dashrath is supposed to have killed Shravan mistaking him for an animal.
P. P. Shri Kajalkar Maharaj was working as a government clerk in the Kajal village. Later Shri Maharaj joined the police force for some time. Being a soft person, he could not carry on with the police job and became a teacher.
Spiritual Journey
P. P. Shri Kajalkar Maharaj started his spiritual journey by becoming a disciple of P. P. Shri Dhundiraj Maharaj Kavishwar. He had undertaken to complete a thirteen crore count of the Lord Shriram Naam Jap. On completion of this tremendously difficult task, it is said that God himself appeared before Shri Maharaj to bless him. Also, Shri Narsimha Saraswati Swami Maharaj appeared before him in person and gave him Darshan when he read the "Shri Gurucharitra" uncountable times. Because of his authority and knowledge, his disciples called him "Dnyandev".
Along with Vedic literature, P. P. Shri Maharaj studied Islamic literature as well. He had as much command over Arabic and Urdu languages as over Marathi, Hindi and Sanskrit. He had many Muslim devotees as well . He had studied the religious book of the Muslims i.e. the "Quran". He attained the highest peak of knowledge by conquering various hardships and through determined hard work.
P. P. Shri Kajalkar Maharaj was a complete Yogi. All the superhuman attributes that have been mentioned in the Yogashastra sat on his shoulders very easily. There can be no higher certification for a disciple than acknowledgement of accomplishments from his Guru. P. P. Shri Kajalkar Maharaj's Guru P. P. Shri Dhundiraj Maharaj himself acknowledged P. P. Shri Maharaj's accomplishments many times. These Yogic powers used to manifest themselves when in need. People have seen P. P. Shri Kajalkar Maharaj extend his arm for 8 to 10 feet in order to pick up an object. He used to tame venomous snakes with "Yogashakti".
P. P. Shri Kajalkar Maharaj did not like discrimination within the classes. All classes of society felt that he was one of them. He used to offer tea as Prasad to all devotees visiting him. The same tradition continues even today at Dattashram where all devotees are given tea as "Prasad".
There was an instance wherein the devotees of Shri Maharaj decided to build a temple of "Sheshashayi Narayan" in Savna near Jalna. When the devotees requested a nearby farmer to supply water from his well for the construction of the temple, he refused. However, P. P. Shri Maharaj just asked the devotees to dig a new well. Even when there was no water in the well, Shri Maharaj induced water in it by his spiritual powers.
P. P. Shri Kajalkar Maharaj had command over death also. By his own will, he left for heavenly abode on Chaitra Shuddha Dwitiya at P. P. Tai Maharaj's residence in Jalna.
P.P. Shri Dattmaharaj Kavishwar 
Kavishwar Dynasty: P. P. Shri Dattatrey Kavishwar Maharaj hails from Mandavgadh in Nagar district. Shri Maharaj was born on 2nd March 1910 at Narasoba Vadi into a family of saints. P. P. Shri Maharaj's grand father P. P. Shri Vakratunda Maharaj and his father P. P. Shri Dhundiraj Maharaj had both attained the highest knowledge. Both these saints have had a connect with Narsoba Vadi and had spent considerable time in this religious village by river Krishna. Shri Maharaj's mother was a devoted wife and strict about following religious guidelines. P. P. Shri Maharaj's parents had the blessings of P. P. Shri Vasudevanand Saraswati Swami Maharaj. He had suggested performance of certain rites such as Yadnya and Jap so as to be blessed with a child that would suit the spiritual temperament of these divine parents. They performed all rites with great faith and P. P. Shri Maharaj was born thereafter.
P. P. Shri Datta Maharaj was born at Narsoba Vadi and spent his entire childhood there itself. He completed his conventional education in "Veda Shastra", "Dharma Shastra", and "Sanskrit Poetry" and was a renowned scholar of Nyaya Shastra, part of Hindu philosophy. In keeping with family traditions, P. P. Shri Maharaj worshipped Lord Ganesh and Lord Dattatrey.
Education: Shri Datta Maharaj spent his childhood in Narsoba Vadi and completed his primary education there. Shri Dikshit Swami Maharaj, the disciple of P. P. Shri Vasudevanand Saraswati Swami Maharaj was residing in Vadi at that time. P. P. Shri Dattamaharaj was blessed with guidance and blessings of this great saint; indeed P. P. Shri Dikshit Swami Maharaj was "Diksha Guru" for Shri Datta Maharaj. Shri Dikshit Swami Maharaj implanted deeply the importance of devotional worship of god on P. P. Shri Maharaj's mind. P. P. Shri Datta Maharaj completed further studies in the Sanskrit school of Shri. Jagadguru Shankaracharya Jereswami. P. P. Shri Datta Maharaj performed the immensely difficult task of conducting his first "Bhagvat Saptah" at the young age of 16 at Aurwad near Vadi. His lucid and yet controlled interpretation of the Bhagwat Puran only revealed his spiritual maturity even at that early age. At that time Shri Dikshit Swami blessed him saying "You will attain the highest knowledge, happiness and contentment."
P. P. Shri Maharaj had his initial education in literature and grammar from Shri Abhyankar Shastri at Sangli and completed his further education in religion and Vedik literature from Shri Nagesh Shastri Uppenbettgiri. When Shrungeri Swami Maharaj saw his intense brilliance, he remarked "Shri Dattatreya Shastri is a gem of a disciple".
Later Shri Subbashastri taught him "Mimansa Shastra" at Pune. P. P Shri Maharaj was associated in the position of a teacher at Tilak Maharashtra Vidyapeeth Pune till his retirement. Even as his teaching career progressed, it never interrupted any of his daily worships and prayers.
P. P. Shri Datta Maharaj later came in contact with P. P. Shri Gulavani Maharaj, who was disciple of P. P. Shri Vasudevanand Saraswati Swami Maharaj. P. P. Shri Maharaj had great respect for Shri Gulavani Maharaj and looked up to him as a Guru. He never even sat in P. P. Gulavani Maharaj's presence. The respect and love was mutual. Recognizing his abilities, Shri Gulavani Maharaj later appointed him as his spiritual successor.
Personal life 
P. P. Shri Datta Maharaj married Sau. Laxmi Aaisaheb at a proper age according to conventional Hindu customs. Recognizing the spiritual position that P. P. Shri Maharaj had attained, Sau Aaisaheb perfectly complimented him in every possible way. She was a solid rock of support for his family and greatly influential in running the household efficiently. Looking at her exceptional capacities and endearing and engaging nature, P. P. Shri Gulavani Maharaj used to refer to her as his daughter. Sau Aaisaheb was like a mother and an engaging and loving connection between P. P. Shri Maharaj and thousands of his devotees. While being exceptionally spiritually blessed herself, Sau Aaisaheb was always content being a pillar of strength for her husband and his devotees.
Spiritual Achievement:
1. By the order of Shri Gulvanimaharaj he edited and published biography of P.P.Shri Vasudevanand Saraswati Swamimaharaj in 14 volumes.
2. He translated "Vedant Parijat Saurabh" , the commentary on The Aphorisms of Vedant Philosophy by Nimbakachary.
3. He had written a scholarly commentary on "Sarv darshan Sangrah".
4. Since the age of 16 till the age of 82 he performed "Shri Bhagavat Saptah" throughout and outside Maharashtra.
5. He gave many discourses on hyms by P.P.Shri Vasudevanand saraswatimaharaj. He showed the way to devosional worship of god and enlightened the society.
6. As a family successor of Shri Dhundirajnaharaj and later Shri Gulavani maharaj, he was engaged in constant spiritual upliftment of society. He had many disciples.
7. He was not only popular in India but to outside world also. Many people approached his for advice and were contended.
8. He constructed "Shri Vaman Nivas". It was a symbol of his devotion towards P.P. Shri Gulavanimaharaj.
9. Renovation of Shri Dattamareshwar Temple at Aurvad.
10. He followed Shri Adi Shankarachary's theory and taught till end and thereby helped people in spiritual upliftment. He also freed many from their physical problems by suggesting scientific means induced them for spiritual devosion.
11. His all discourses are avalible in Shri Dattashram.
Honours: 
1. Honoured with "Vidyavachaspati" in 1961 at the hands of then President of India Shri Sarvapalli Radhakrishanan, for his extraordinary achievement in Sanskrit language.
2. Honoured with "Nyaya Chudamani" from Vedshastrottejak Sabha Pune.
3. Honoured with degree of "Mahamahopadhyay" by Shri Shankaracharya of Dwarka Peeth.
4. "Vidvatsabha" from Prayag honoured him with "Brahmarshi".
5. Received gold bracelet and honorarium from Shri Shankaracharya of Kanchi Kamkoti Peeth
6. Honoured with 'Rashtriya Shikshak" and "Rashtriya Pandit" from Govt. of India.